Heritage and History of St Michael and All Angels
The site of St Michaels and All Angels been a continuous place of worship for over 1500 years. In the local area, you can find evidence of the Bronze Age settlements, Roman lead mines and ruins of the 11th century Castell Meredudd. With such a long history, it is not surprising that the Church is home to many fascinating historical artefacts including the largest collection of Hatchments (click here to find out more about our Hatchments) in any church in Wales and Monmouthshire and the fine Morgan Family Monuments (click here to find out more about our Monuments) in the Grade II* listed early 18th century Chapel.
The Church is claimed to have been founded in the 5th century by Glywys ap Solor, the early Welsh king of Glywysing (modern-day Glamorgan). The Nave was originally built in 1102 and rebuilt around 1600. The Chancel and Belltower were added in the 13th and 15th centuries and the Porch in the 17th century. In 1710 John Morgan "The London Merchant", of Tredegar and Rhiwperra added the Morgan Chapel completing the building you see today.
Visit the church or take our 3D virtual tour to learn more about this historic site or even attend one of the Lower Machen Music Festival concerts which are held here.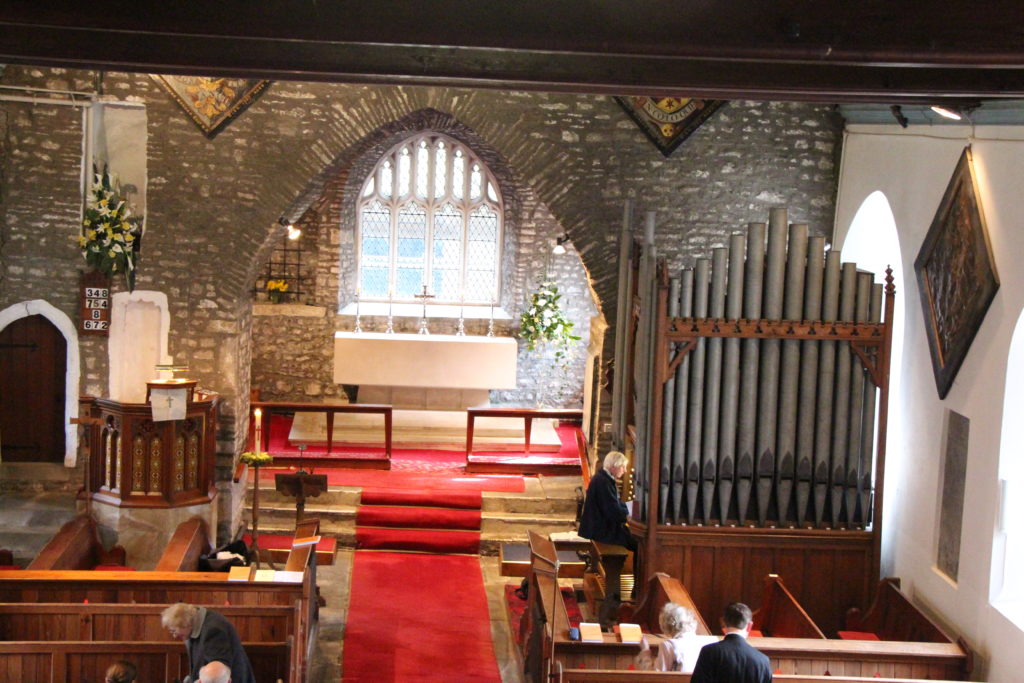 To explore the Church you enter the churchyard passing the late 19th century iron gates and the base of a medieval preaching cross. Local legend has it that this is the very spot, where in 1188, according to Gerald of Monmouth, Archbishop Baldwin of Canterbury, preached in support of King Richard the Lionheart's Third Crusade to the Holy Land.  This is also where on Friday 16th October 1721 John Wesley preached during his 3rd visit to Wales.  
The entrance porch, leads through a pair of red baize covered doors by Aaron Edmunds (dated 1830) to the Nave to view the 11 huge Morgan hatchments, the 18th Century Font and the pulpit dating from 1826. Also inspect the extremely heavy Portland Stone Altar donated by Harry Secombe the famous singer and comedian in the 1950s. Seek out our huge stone with its grotesque face. It could be from the Romano Pagan period or even the 17th or 18th Century. Let us know what you think.
Click on the artifacts below to find out more about them. If you would like to find out more about the history of Lower Machen Church then visit our "Remarkable Books" page where you can order our books!.