The Entrance Porch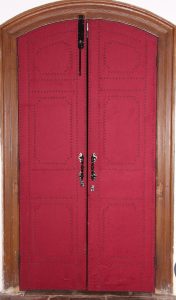 Entering the 17th century porch, with low wrought iron gates, benches and stone flagged floor, the Church is accessed through two sets of double doors. The outer door is solid timber.
The inner doors were made by Aaron Edmunds in 1830 and are covered with red baize at a cost of four pounds eleven shillings (£4.55). In 2006-2007 these doors were wonderfully restored by a local resident and church member. The baize was refurbished together with new sprigs and nails.
Services commenced at 11.15 a.m. which enabled the servants of nearby Ruperra Castle to finish their household chores, get dressed and walk to church through the fields, (a distance of 1.5 miles or so, or over 3 miles by road). They would line the churchyard path, the maids dressed in black cloaks and bonnets, waiting for the Morgan family to arrive by carriage drawn by a pair of greys. The time of service remains the same to this day.