Monument 4: Revd Augustus Morgan and France Morgans

Reverend Charles Augustus Samuel Morgan was the third son of Lt.-Col. Sir Charles Morgan, 2nd Baronet and Mary Margaret Stoney. At the age of 14, he served in the Royal Navy as a midshipman and then aged 19 left the navy to attend Christ Church, Oxford, graduating with an M.A. in 1827. He was ordained as a Deacon in 1825 and Priest in 1826. In August 1830, Augustus became an honorary Chaplain in Ordinary to King William IV; this impressive-sounding position did not require him to carry out any formal duties apart from preaching once a year in the Chapel Royal. This was a role he also fulfilled to Queen Victoria and was Chancellor of Llandaff Cathedral.10 He became Curate here in Machen in 1828 and Rector in 1831, a living he held for another 42 years. He built Machen House which adjoins the churchyard as his Rectory and laid out the gardens between 1831 and 1835. Today Machen House is listed Grade ll* and the gardens are listed Grade ll on the CADW Register of Parks and Gardens in Wales. Machen House and gardens are privately owned and are not open to the public. He established the Church School in the building opposite the church, which is now a private dwelling. He had the foresight to compile the parish censuses for 1839, 1844 & 1853, the latter listing all the children in the school and the occupations of their fathers, adding valuable details to the history of Machen. The construction of our daughter Church, St John the Baptist, in Machen (1.5 miles away) is largely due to the Revd. Morgan. He married Frances Lascelles, daughter of Rowley Lascelles, on 20 April 1837. They had no children. Augustus and Frances are buried at St Basil's Church, Bassaleg: there are fine hatchments for them here in the Nave.
Frances, the much-loved wife of her second cousin, Revd Augustus Morgan, was born in 1800 at Watchfield House, Shrivenham, Wiltshire. She was the younger sister of Anna Lascelles whose hatchment is on the south wall of the nave. Frances and Augustus did not have children and the local tradition is that she had had a failed pregnancy which she struggled to get over. She spent a great deal of time in her garden and many hours in the maze that at one time was in the Rectory garden. Parish magazines tell us of her visits to sick parishioners and holding parties for the village children. The poem written after her death by Augustus Morgan mounted on a tablet in the Morgan Chapel tells of a "grievous blow inflicted on a gentle lady".
There is a fine hatchment for Frances here in the Nave.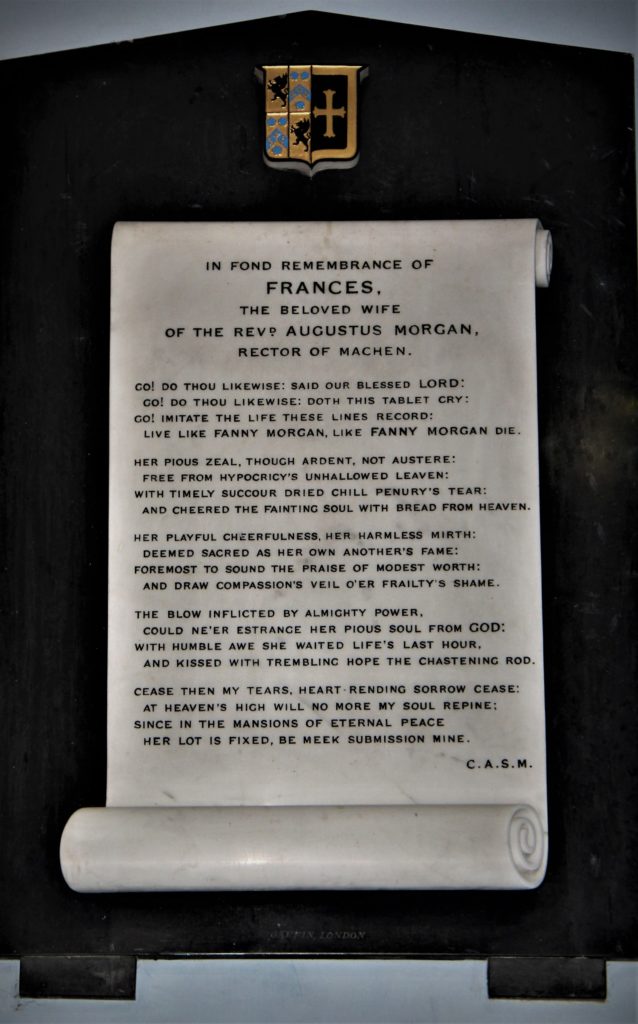 To find out more about Rev Augustus Morgan And Frances Morgan please click here.