Hatchment 6 & 7: John Morgan Esq MP of Tredegar
18th February 1742 – 28th June 1792
Died aged 50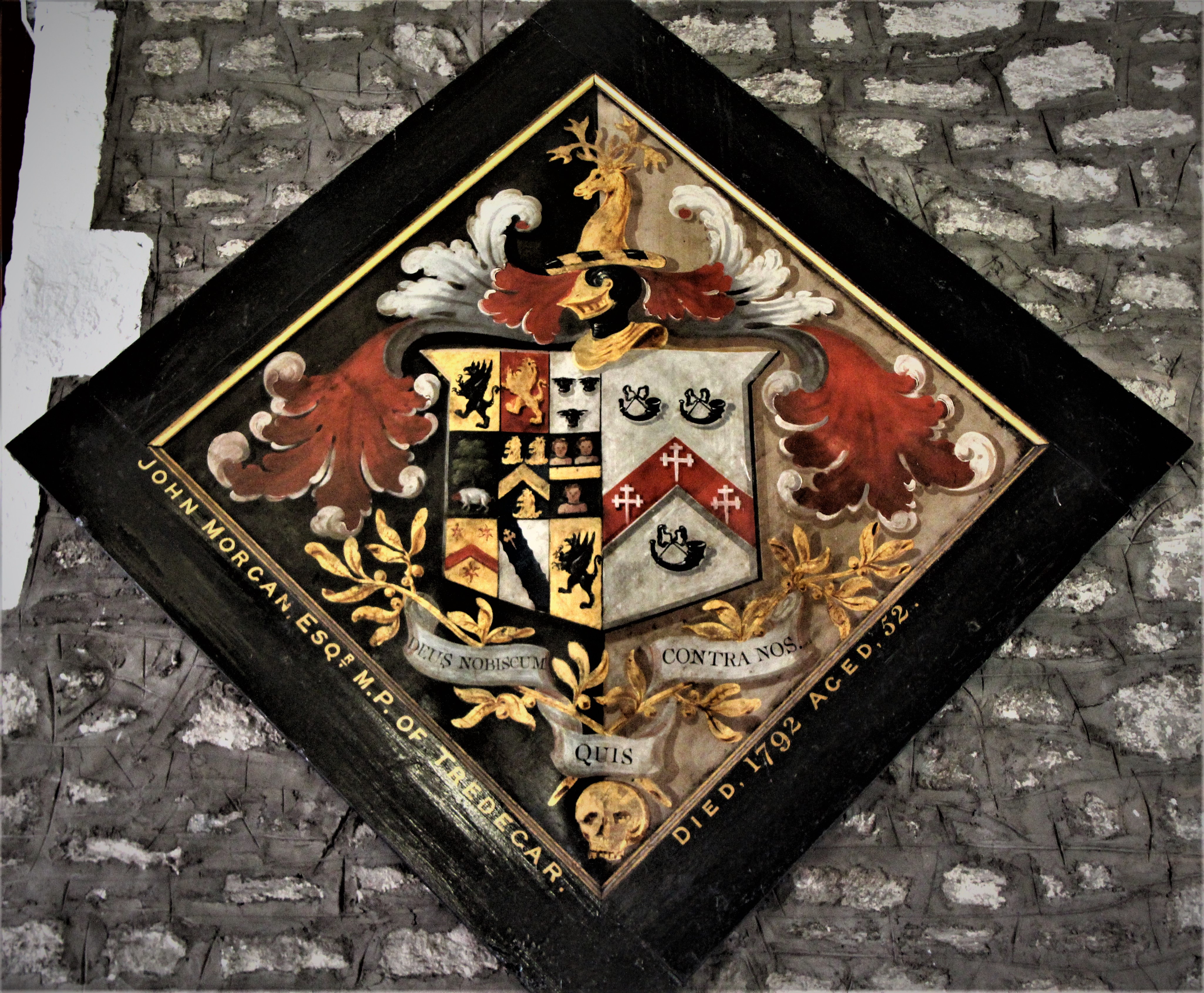 John Morgan was the youngest son of Thomas Morgan and his wife, Jane. In the tradition of the Morgan family, he was a politician and sat in the House of Commons 1769-1792. From 1769 he was Member of Parliament for Brecon, succeeding his brother Charles Morgan. Following in Charles' footsteps, in 1771, he accepted the Stewardship of the Manor of East Hendred to enter the by-election at Monmouthshire, to replace his late brother, Thomas Morgan.
Unusually, given the immense Morgan influence in Brecknockshire and Monmouthshire, the election was contested. Valentine Morris stood against John and lost by 535 votes to John Morgan's 743
He was exceedingly wealthy, and upon the death of his brother Charles in 1787, the entirety of the Tredegar Estate passed to him. However, by then the estate was deeply in debt and until his death John battled on, trying to improve its finances. At his death, he had failed in two ambitions. He had not succeeded his brother Charles to be Lord Lieutenant of Brecknockshire, which had been awarded to the Duke of Beaufort. Secondly, in 1788 he married Louisa, daughter of Charles Pym Burt, who was much younger than himself, with the hope of an heir. Sadly, this was not to be, so the male line became extinct and his elder sister, Jane became the last Morgan heir of Tredegar. She was married to Charles Gould and lived at 12 Downing Street, Westminster, his official residence as Judge Advocate General. John, realising that there was little chance of him leaving a male heir, made provision in his will for Charles Gould to inherit, provided he took the name of Morgan!
John is buried in the Morgan Chapel where there is also a small memorial plaque adjacent to a similar one for his brother Charles.
| | |
| --- | --- |
| Inscription on Frame | John Morgan, Esqr. M.P. of Tredegar. died. 1792 aged. 52 (sic) |
| Background | Dexter background black |
| The Arms are a quartering of 9 Impaled with the Burt Arms comprising a red chevron with three golden heraldic crosses on a silver background with three hunting horns | 1. & 9. Morgan 2. Meredith ap Bleddyn 3. Bleddri ap Cadifor Fawr 4. Llwch Llawen Fawr 5. Wyndham 6. Vaughan 7. Colchester 8. Clarke |
| Crest | A reindeer's head |
| Mantling1 | Gules and argent – red & silver |
| Motto | DEUS NOBISCUM QUIS CONTRA NOS – God is with us, who can be against us? |