Hatchment 4: Charles Morgan M.P. of Tredegar
1736 – 24th May 1787
Died aged 51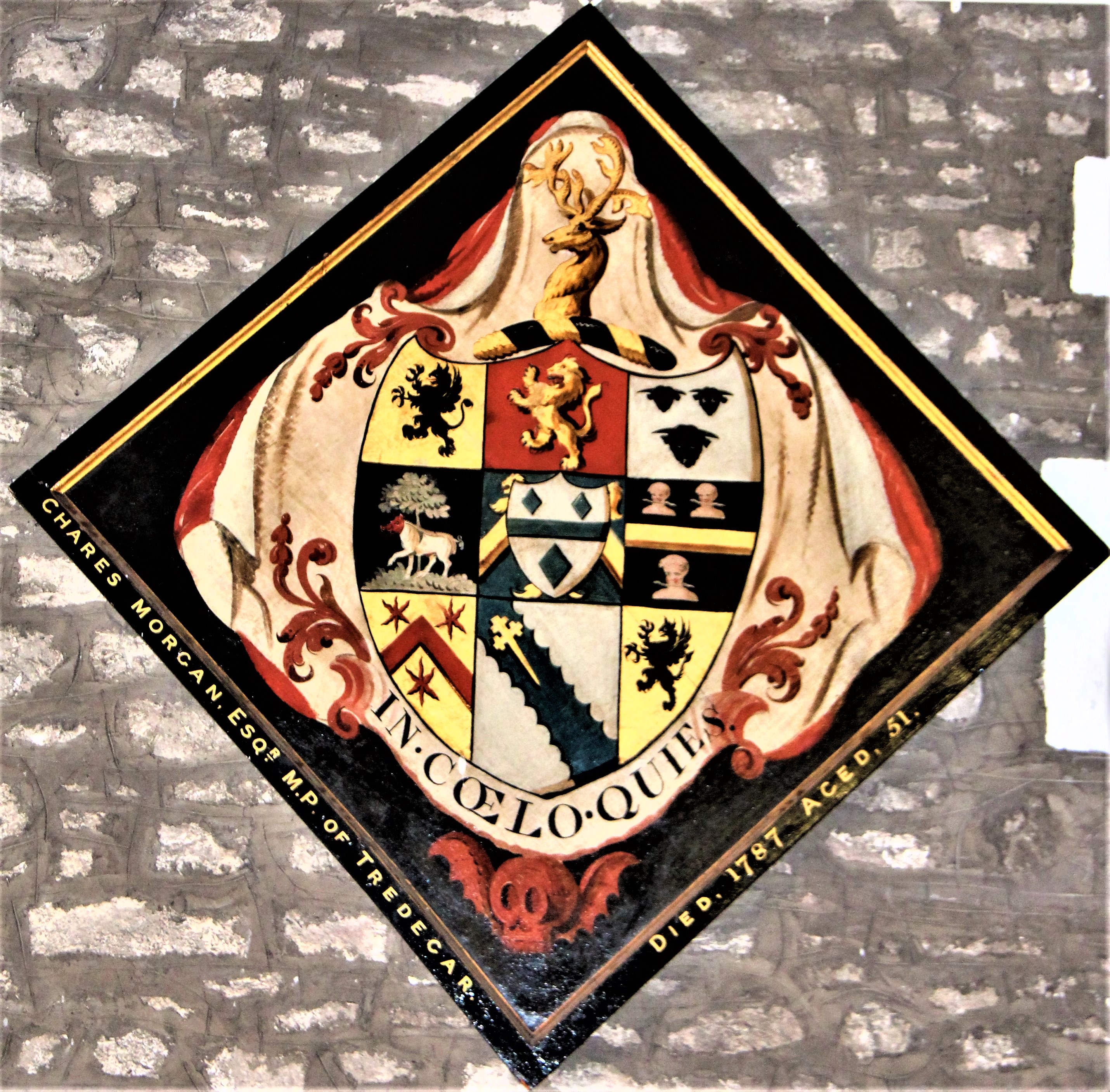 Charles Morgan "of Dderw", was the second son of Thomas Morgan, who succeeded his elder brother Thomas as Member of Parliament for Brecon in 1763. He was High Bailiff of Brecon in 1768, and a lieutenant in the Foot Guards in 1769. That year he wished to succeed his late father as Member for Brecknockshire, but as was the case with his brother Thomas in 1763 he could not resign his Brecon seat to stand in the by-election. However, he used a similar device to that used by Thomas. This time, his appointment to the "Stewardship of the Manor of East Hendred" was used on 15th May 1769 to obtain the release.12 He then won the 1769 Brecknockshire by-election and represented the county until he died in 1787.
In 1771, he inherited the Tredegar estate from his elder brother, Thomas Morgan, and succeeded him as Lord Lieutenant of Brecknockshire. By this time, poor management and family discord had reduced the value of the estate he inherited to a modest £7000. There was little cash in the estate. Rents had not been collected and were nearly two years in arrears so he found it difficult to pay just £200 interest due on mortgaged property. In 1767 he married Mary Gouge, the wealthy widow of Robert Myners Gouge and daughter of Thomas Parry, but they had no children.10
On his death, his estates went to his younger brother, John Morgan. Charles has a small memorial plaque above the fireplace in the Morgan Chapel where he and his wife, Mary, are buried together.
Inscription on Frame
Chares (sic) Morgan. ESQR M.P. of Tredegar. Died. 1787 Aged 51.
Background
All black background
The Arms are a quartering of 9 with
small Perry arms In Pretence1
1. & 9. Morgan 2. Meredith ap Bleddyn 3. Bleddri ap Cadifor Fawr
Llwch Llawen Fawr 5. Wyndham 6. Vaughan 7. Colchester 8. Clarke
Crest
On a wreath or and sable a reindeer's head or – a reindeer's golden head on a gold & black twisted cloth wreath
Mantling1
Peer's mantle – the shield is draped in a crimson peer's cloak lined with white miniver fur.
Motto
In Coelo Quies – Resting in heaven
Other Details
Skull at base