Sir William & Lady Rachel Morgan
The inscription on the left panel of the double monument is to Sir William Morgan, son of John & Martha, and his wife Lady Rachel Cavendish.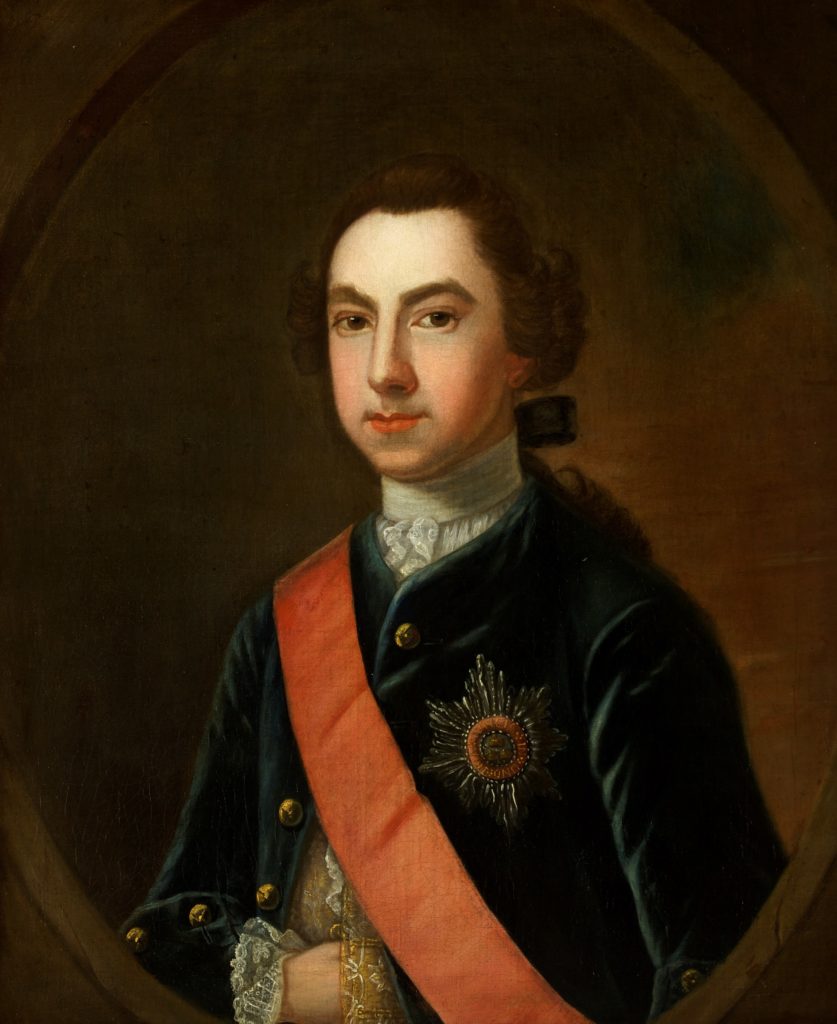 William was a Whig politician and a Founder Knight Companion of the Order of the Bath, (KB). In 1722, he had entered the House of Commons, having been elected for both Breconshire and Monmouthshire. He chose to sit as the Member of Parliament for Monmouthshire, a post he held until his death in 1731.
In 1720, at the age of just 20, he followed his father in being appointed Lord Lieutenant of Brecknockshire and Lord Lieutenant and Custos Rutulorum (Keeper of the Rolls), of Monmouthshire, and in 1723 was made Custos of Brecknockshire. He was Steward of the King's Lordship of Pengelli (modern day Penkelly) Brecknockshire, which required little work but gave him greater status and potentially lucrative financial benefits. This was an appointment granted by Edward IV on 15th November 1461 to Roger Vaughan, a member of the Bredwardine and Tretower branch of William's mother's family.
William was invested Knight Companion of the Bath on 27th May 1725. The Order was limited to the Sovereign, a Prince of the Blood Royal as Principal Knight, a Great Master and thirty-five Knights Companion, who bore the post-nominal KB. When George I, advised by Britain's first prime minister Robert Walpole, created the order, the King believed that he was reviving an ancient order that had, in fact, never existed. It was the fourth-most senior of the Orders of Chivalry, after The Order of the Garter, The Order of the Thistle, and The Order of St Patrick. The founder members included three dukes and seven earls but roughly half were wealthy members of parliament, many of which, including William, were political and financial supporters of Walpole and quite likely financed Walpole's lavish lifestyle.
Unfortunately for William, he was the victim of a robbery which was reported in the Ipswich Journal on Saturday 26th November 1726: "Last Week Sir William Morgan of Tredegar had his Badge of the Order of the Bath and some other Things of Value stolen from him at Reading". This proved to be deeply embarrassing for William as the public treated his discomfort as something to make fun of; there was even a popular song about the robbery which remained in circulation for many years after William's death.
During the Siege of Gibraltar of 1727 where Spanish forces besieged the British garrison of Gibraltar as part of the Anglo-Spanish War, newspapers on 1st April reported that Sir William was made an Aid de Camp to the King. Then on the 6th April, there were newspaper reports 'That the second Regiment of Guards is to attend his Majesty beyond Sea; and that the Dukes of Richmond and Hamilton, Sir William Morgan, Col. William Townend, with many other men and Gentlemen, will go as Volunteers under the Banner'
William was known for his courtesy and benevolence, though he was also extravagant with his wealth. He seems to have spent substantial amounts of money at Tredegar and further afield in Cardiff, London and Newmarket. Having inherited great wealth at such a young age, he could not control his spending. He lived life to the full and enjoyed a flamboyant lifestyle, his annual expenditure in 1725 alone was £37,418; about £8 million in today's money.
His interests included cockfighting, gambling, hunting and horse racing; to add to his enjoyment of these pastimes he paid for a horse racing course to be constructed at Cardiff and a cockpit at Newport. By contrast, he also had an appreciation of music, employing a harpist and other musicians. In keeping with the fashion in Georgian times, he employed a black servant, Girolamo Bardoletti, who was paid an annual wage of £5 which was comparable with that paid to other domestic servants. While this appears to be a low salary, Girolamo would have also received other benefits such as all his meals, accommodation and clothing.
In 1723 Sir William Morgan married Lady Rachel Cavendish, the daughter of William, 2nd Duke of Devonshire of Chatsworth House, Derbyshire. Their marriage was an opportunity to bring together two of the most influential families of the time. Lady Rachel's father, was a prominent Whig peer and extremely wealthy such that he was able to provide a dowry of £20,000 (about £4.4 million at current prices)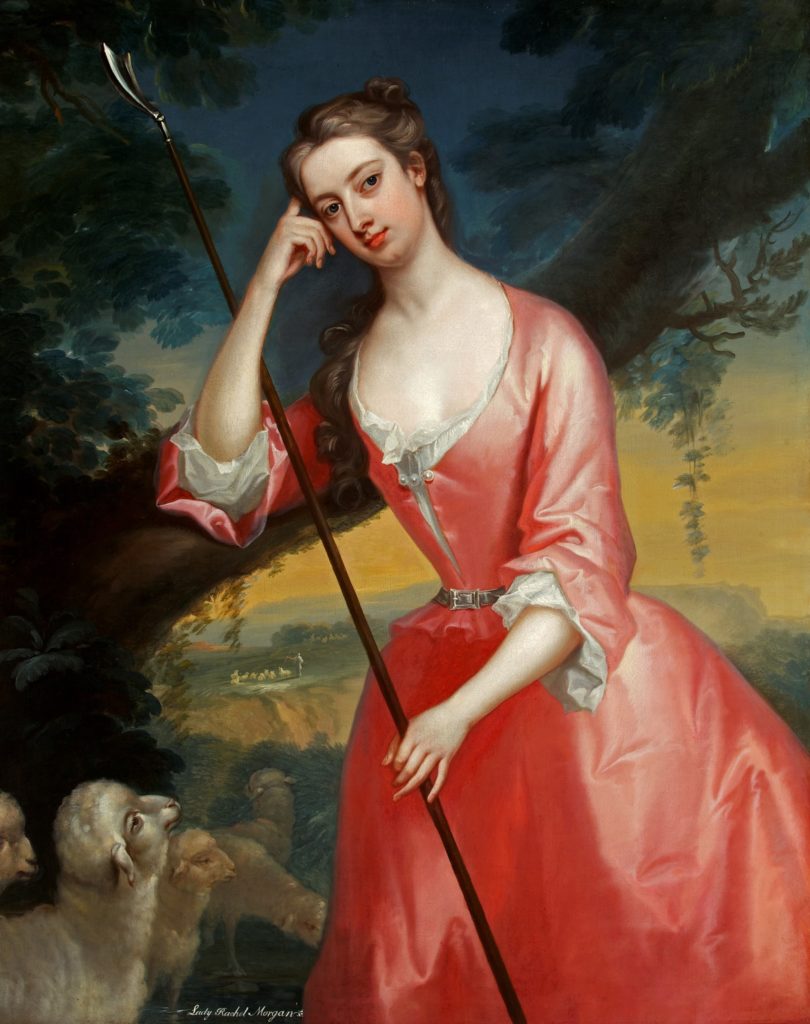 William and Rachel had two sons, William (b.1725), and  Edward (b.1727),  as well as two daughters, Elizabeth (b.1729)  and Rachel (b.1726) who sadly died at a very young age in March 1739. 
Sir William Morgan died from consumption at Tredegar House on 24th April 1731. His premature death left his poor wife with four young children, the eldest, William, being only 6 when his father died.
To add to Lady Rachel's distress at losing her husband, he had left the Tredegar Estate in financial difficulties and William had also accumulated large debts in his own right, so great that his Estate was insufficient to pay his creditors. The extent of the debt must have been at least partly due to Sir William's frivolous spending. Even after settling major accounts, it was reported, many years later in 1744, that Sir William's estate was still in debt to the tune of £20,882.12s.10d (Over £5.2 million at current prices).
William had made his will on 3rd April 1731, just three weeks before his death and must have felt confident that with two sons, his succession was secure.
While Sir William led what appears to be a carefree life and was careless with money, he did at least ensure that his will made provision for the care of his family. His Tredegar Estate was left to his eldest son, William and arrangements were specified to provide Rachel and her children with an annual income from the Tredegar Estate. William appointed his wife, father-in-law (William, Duke of Devonshire), his brother (Thomas Morgan), Sir Edmund Probyn and John Hanbury Esq. as the children's guardians by saying:
"I commit the whole care and management of my said Children and their respective persons, Educations Estates and Fortunes to their care and management during their respective minority…"
He made provision that, if both of his sons died without issue, his estate was to pass to Thomas, his brother and Thomas's male heirs – the will was the cause of much legal consternation later.
As both Sir William's sons failed to produce a male heir, his brother Thomas did indeed inherit the Tredegar Estate in 1763 and this resulted in a long and very expensive legal dispute between Lady Rachel and her brother-in-law. No hint of these difficulties to come appears on his memorial tablet in the Morgan Family Chapel, which reads:
IN MEMORY OF
SIR WILLIAM MORGAN
Eldest Son of the said JOHN MORGAN Esq
Lord Lieutenant and Custos Rotulorum
of the Counties of Monmouth and Brecon
Admitted a Fellow and Companion of the most Honourable Order
Of the Bath the 17th day of June 1725
Tho' he came, when young to the Possession
of
Power, Honour, an High Alliance and a great Estate:
Yet they neither made him forget himself
Nor his Father's Friends.
He was a stranger to Indolence, Oppression or Ingratitude
Humane, courteous and benevolent
In his Conservation, and at his Table
Sprightly, free and engaging.
A Lover of his Neighbours, compassionate & charitable.
Amiable for these, and other good Qualities:
And much lamented at his untimely Death.
He was married to Lady Rachell (sic) Cavendish
Eldest Daughter to the late
Most Noble Duke of Devonshire
And had Issue by her
Two Sons and two Daughters
the endearing Pledges of their mutual Love, when he was living
And since his Death,
The chief Delight and most affectionate Care
Of
Their truly excellent Mother
HE Died April 24th 1731
Aged 30
Lady Rachel survived Sir William by forty-nine years, passing away in 1780, and outliving all of her children except her younger daughter, Elizabeth. She was their only child to live into middle age, the first daughter, Rachel, died on 12th March 1739 before reaching her teens.
Elizabeth (1729-1787), married William Jones of Clytha, who was a member of the Jones family of Llanarth Estate, near Abergavenny, who were prominent in the sizeable Monmouthshire Catholic community. One commentator of the period described Elizabeth as, "the female heir of the House of Tredegar", though this was not the case under the terms of her father's will.
Sir William and Lady Rachel were reunited when she was buried with her husband together and their elder son, William, here in the Morgan Family Chapel.
The Thirty-Year Legal Struggle caused by Sir William's Will
William & Rachel's marriage settlement in 1723 had set out how Rachel and the children of the marriage were to be provided for. During William's lifetime, Rachel was to receive an annual allowance of £500 (about £110,000 at current prices) from the income from 26 of the Estate's land holdings including Machen Forge and Woodlands. There was also provision that Rachel would receive £2,000 (about £450,000 a year at current prices) after William's death. Nine parcels of land close to Tredegar House, including at Bassaleg, St Woolos and Stow Manor were also set aside for the benefit of their children.
A further 12 landholdings including property at Caerleon, Christchurch, Caldicot, Magor & Undy were specified in the marriage settlement to be held permanently by the Estate to pass through the male line to preserve the Morgan's wealth.
However, all these plans were thrown into turmoil by Sir William's early death followed by the premature demise of their two sons. First, Edward Morgan, their younger son died suddenly in 1743 aged 16 at Lady Rachel's house at Argyle Street, Millfield, London. The cause of death was found to be a Polypus in the Heart. Edward is buried in the Morgan Family Chapel and shares his grave with his great uncle, John Morgan the London Merchant.
Their first son William and heir to the Tredegar Estate, then died intestate on 16 July 1763 aged just 38. He had been educated at Westminster and Oxford and had become MP for Monmouthshire in 1747. He seems to have spent much of his adult life attending to his interests in London and may not have been too attentive to his responsibilities in Wales.
William is believed to have suffered poor health throughout his life and this seems to be confirmed in March 1758 where the London Chronicle even reported that "William Morgan Esq; of Tredegar, Member of Parliament for Monmouthshire, lies at the point of death at Bath".
When Sir William had inherited Tredegar in 1719, it seems that the properties and its finances were in a good condition. However poor management through the mid-eighteenth century and costly family disputes quickly changed that and a lack of cash caused further problems. The house at Tredegar fell into a poor state of repair, and the Estate appears to have struggled to pay Rachel's annual allowance of £2000 as required by the marriage settlement.
Lady Rachel is on record as stating that during her husband's lifetime, she had received very little of the £500 annual allowance and the £2000 allowance from Sir William's trustees after his death. However, she had not pursued the Estate for the unpaid amounts, as it would probably have involved an action against her husband and son. Her forbearance came to an end on the death of her son, and she pursued extremely costly legal actions to secure her future and that of her one remaining child, Elizabeth.
After the death of her son, William, Lady Rachel, Elizabeth & her husband, William Jones embarked on what turned out to be nearly thirty years of legal disputes in the Court of Chancery and the House of Lords. Although her husband's will made express provision, Lady Rachel disputed her brother-in-law's entitlement to the parcels of Tredegar land which she firmly believed should pass to her remaining daughter. Her daughter Elizabeth and her husband William Jones were also pursuing an entitlement to the entire Tredegar Estate. In both cases, the argument was that the terms of the 1723 marriage settlement took priority making Sir William's will void, but in 1774 both actions were resolved in favour of Charles Morgan, son of Thomas Morgan, who had inherited the Estate in 1769 on the death of his father.
Having lost their claim to the entire Estate, Elizabeth & William Jones turned their attention to trying to recover the arrears of Lady Rachel's annual allowance, so the dispute continued for many more years. The action was ultimately unsuccessful and all financial disputes only came to an end in 1793 when William Jones reached a financial settlement with Sir Charles Gould Morgan who had inherited the Tredegar lands the previous year. By this time both Lady Rachel and Elizabeth had passed away and the only beneficiary of the disputes seems to be the legal profession!