Monument 6: Honourable Frederic Courtenay Morgan
24th May 1834 – 8th January 1909
Died aged 66
The Honourable Frederic Courtenay Morgan monument on the south wall east wall of the Morgan Chapel arch is carved from a single piece of white statuary marble. It has an 'enriched' frame with scrolled strapwork and cornucopia (goat's horn overflowing with flowers). The inscription has winged cherubs above and below and the plaque is surmounted by the family crest which is a gilded stags head.
Frederic was one of the eleven children of Charles Morgan Robinson Morgan, 1st Baron Tredegar and Rosamund Mundy, and was their third son.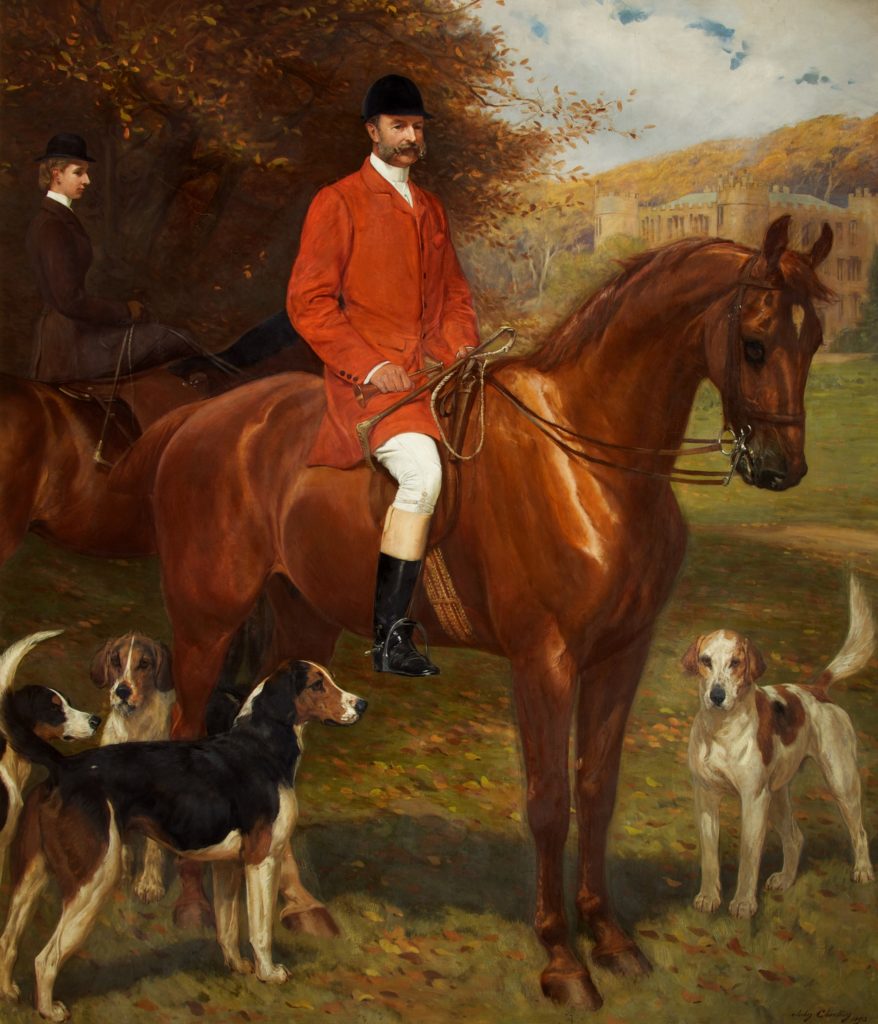 He was born in Brighton on 24th May 1834 and was educated at Winchester. At Tredegar, he was always known as Master Frederic by all the staff and estate workers, and this title stayed with him throughout his life. His genial warmth of manner and his sporting abilities meant he was highly respected and popular with South Wales society and ordinary people. He was an imposing figure at six feet in height, with his distinctive full moustache and a fine horseman, leading the Tredegar Hunt for many years and was considered an expert in bloodlines.
His eldest brother Charles Rodney Morgan died in 1854, aged just 26, leaving Godfrey Charles Morgan as heir.
Both brothers joined the Army as young men, Frederic was commissioned into the Rifle Brigade in 1853 and Godfrey was with the 17th Lancers. Frederic was promoted Lieutenant in 1854 and Captain in 1855. Both fought in the Crimea War against Russia and were at Balaclava. Frederic, being an infantry officer, was not involved in the charge of the Noble Six Hundred, but he was on the field of operations on that October day. He was also involved in the battles of Alma, Sebastopol and the "the soldiers' battle" of Inkerman on 5th November 1854 where the British and French armies defeated the Russian army despite being outnumbered 42000 to 16000 and outgunned 134 to 56.
After the war, both brothers returned to Tredegar and left the Regular Army and were founder members of the Volunteer Corps, a forerunner of the Territorial Army. However, Godfrey on becoming M.P. for Breconshire was unable to devote sufficient time to the duties, so the command of the first company was given to Frederic. In 1860 he was with the 2nd Monmouthshire (1st Newport) Rifle Volunteers, becoming Lieutenant-Colonel commanding the 1st Administrative Battalion of the Monmouthshire Rifle Volunteers later the same year. He resigned from his commission in 1873. He later commanded the 2nd Volunteer Battalion of the South Wales Borderers and was promoted Colonel and became known as Colonel Morgan.
In the 1874 general election, Frederic was elected as Conservative Member of Parliament for Monmouthshire succeeding his uncle Charles Octavius Swinnerton Morgan who had held the seat since 1841. He held the seat until the constituency was divided under the Redistribution of Seats Act 1885. He opted to stand and was duly elected for South Monmouthshire and was re-elected in 1886, 1892, 1895, and 1900. He did not put his name forward as a candidate in the 1906 election, but by that time he had served thirty-two years in Parliament. In 1903 he wrote to Sir Arthur Mackworth, Bart., chairman of the divisional Conservative Association, giving notice of his intention because "I find I am almost daily becoming more feeble and less able to move about".
By that time rheumatism and gout had restricted Colonel Morgan's previous active outdoor life and he needed two walking sticks to get about. He then suffered a severe eye complaint and required surgery; he underwent another operation to restore his sight in January 1905 at Rhiwperra Castle, though afterwards he was required to wear dark glasses.
Ten days before his death he was taken ill with bronchitis and was forced to stay indoors at Rhiwperra Castle. He was attended by his doctor, Dr Reginald Brewer, but a serious worsening of the infection occurred and Frederic lapsed into unconsciousness and died on the afternoon of 9th January 1909. For his only surviving brother Godfrey, now Lord Tredegar it was a great loss. Being only three years older than Frederic. They had been devoted brothers for 75 years supporting each other in all aspects of their lives, in particular during their wartime service in the Army and throughout their political careers.
The funeral of Colonel Frederic Courtenay Morgan of Rhiwperra was on Tuesday 12th January 1909 at St. Basil's Church, Bassaleg where he was laid to rest in the family vault. It was attended by Monmouthshire and Glamorganshire titled families, tenant farmers, and labourers, all testifying to the great loss of Colonel Morgan. About 11 o'clock Frederic's coffin was borne from Rhiwperra by workmen on the estate to the hearse; the inner coffin was made of elm taken from a favourite tree, which some years previously was blown down in Draethen; and an outer coffin of oak. The funeral procession paused at the bridge at Michaelstone-y-Fedw for a short ceremony where one of the scholars, Sophie Spooner tendered a wreath on behalf of the school staff and school children.
When the funeral procession arrived at St. Basil's Church it was met with long lines of carriages and motorcars, filling one side of the narrow road. People of all ages lined the road and the entrance to the churchyard was crowded with estate tenants and servants. Several hundred remained there throughout the service as the church was much too small to accommodate all those wishing to attend. Seats had been reserved for representatives of political parties, local government, and a great many organisations Frederic had served with, including senior and non-commissioned officers the 1st Monmouthshire Territorials, of which he had been honorary Colonel. With so many people of all classes paying their respects along the route of the funeral procession and at the church is testament to the love and regard for one who was so widely esteemed as a soldier, sportsman, and politician.