Monument 5: Charlotte Ann Morgan
The simple chamfered wall-mounted plaque for Charlotte Ann Morgan, wife of The Hon. Frederic Courtenay Morgan (1834-1909), is found in the south-east corner of the chapel. The monument comprises a dove grey Bardiglio Italian marble backing slab with a central relief 'lozenge' of white statuary marble.
The central inscription is framed with two putti at the base and carved floral relief flanking either side to mid-height, and reads-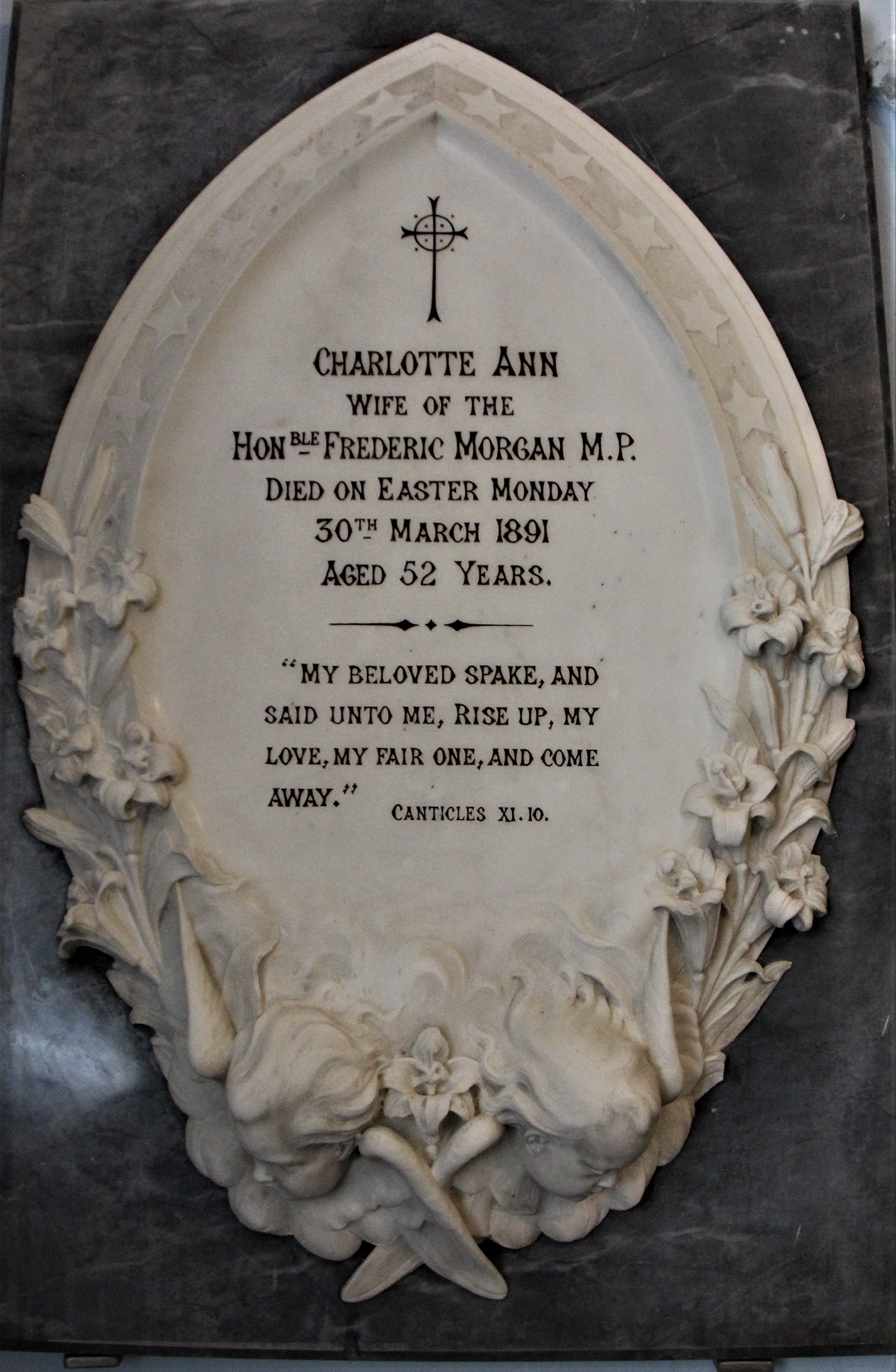 Charlotte Ann
wife of the
honble frederic morgan m.p.
died on easter monday
30th march 1891
aged 52 years
"my beloved spake, and
said unto me, rise up, my
love, my fair one and come
away"
Charlotte was the daughter of the late Charles Alexander Williamson of Balgray and Lawers, Perthshire, Scotland, who was not yet twenty years old when she married the twenty-three-year-old Hon. Frederic Courtenay Morgan son of Charles Morgan Robinson Morgan, 1st Baron Tredegar and Rosamund Mundy. They were married on 3rd May 1858 at St. George's Church, Hanover Square, by the groom's uncle, the Revd Augustus Morgan. The Monmouthshire Merlin included the following lines in its Poet's Corner, referencing Courtenay's time as an officer in the Crimean War at the age of twenty-one and his safe return.
He comes with his young and beautiful bride,
The fairy of joy o'er his fate to preside,
His heart, with its joys and sorrows to share,
His time-honoured name henceforward to bear
What gentleness, meekness, modesty, grace,
Breathes in each look and illumines her face
In the fulness of life, in the freshness of youth
They've plighted their troth—exchanged vows of truth.
'Midst pealing of bells and cannons' loud boom,
And shoutings of joy, the happy pair come.
He comes with his young and beautiful bride-
Our grief must be hush'd, our tears must be dried,
To welcome him home to the land of his birth,
With feelings too chasten'd and solemn for mirth,
But with hearts from whose depths uprise fervent prayers
That happiness, peace, and true bliss may be theirs,
That the toils of his young, adventurous life-
Its dangers and turmoil its perils and strife-
May enhance the calm joys that Heaven bestows,
And sweeten the charm of domestic repose.
MARIANNE
Charlotte and Frederic made their home Rhiwperra Castle and had four children: Blanche Frances (b.1859), Violet Wilhelmina (b.1860), Courtenay Charles Evan, 3rd Baron Tredegar (b.1867) and Frederic George, 5th Baron Tredegar (b.1873).
Sadly Charlotte died at Rhiwperra Castle early on Easter Monday morning, 1891 at the young age of just fifty-two. Her death was not unexpected, as she had been an invalid for several years, suffering serious heart disease which was the cause of her death. Some years before she had a malady affecting her eyesight which led to her becoming blind, which may have been hereditary as her elder son, Courtenay Morgan, also had considerable trouble with his eyes,
In February 1891, newspapers reported a deterioration in her health and further complications. Courtenay, her husband did not take his place in the House of Commons to be with her. On her death, the South Wales Echo noted that "She was much respected by a wide circle of friends, and the poor of Rhiwperra have lost a kind benefactress."
Charlotte's funeral service took place at St. Basil's Church, Bassaleg where her coffin was placed in the Tredegar Mausoleum. The service was attended by family members, dignitaries and Mrs Anderson, the housekeeper at Rhiwperra; Miss McKay, deceased's maid; and Mrs McLean, nurse, and by about fifty of the servants and woodmen on the Rhiwperra Estate, many of whom carried wreaths. Nearly all of the servants and employees at Tredegar House also attended and presented wreaths.