John Morgan Esq. & Martha Morgan

The inscription on the right-hand panel of the double monument is to John, nephew of John Morgan the London Merchant, and his wife, Martha, daughter of Gwyn Vaughan of Trebarried, Brecon.
John was the youngest son of  William Morgan and his wife (and cousin) Blanche. He inherited the family's Tredegar Estate in 1700 on the death of his elder brother, Thomas, without surviving children, his middle brothers also having predeceased him.
John then succeeded his brother, Thomas, as Member of Parliament for Monmouthshire in 1701 and also as Custos Rotulorum of the county (the principal justice of the peace, and keeper of the rolls and records of the sessions of the peace). He continued in both positions until he died in
1719. He sat in the House of Commons as a member of the Whig party, which gave much support to the Hanoverian Kings: John's loyalty to the King is recognised on the monument with the words "In his Loyaly to his King, He was zealous but not sirvile; Respectful to his Ministry but no Courtier; In the Love of his Country and Cause of Liberty, sincere & steady. In short, He was a very worthy Gentleman."
In the 21st century, the position of Custos Rotulorum is largely ceremonial. However during the reign of King George I, it was very different, as there was much religious unrest in the country following the 1701 Act of Settlement which excluded Catholics from the throne of Great Britain. After the Jacobite uprising of 1708, James Stuart (the Old Pretender) made a second attempt in 1715 to regain the throne. One consequence of this was the passing of the Papists Act 1715 which required Justices of the Peace to obtain oaths of allegiance from all confirmed and suspected Catholics. There was a fear that Catholics were plotting the destruction of the kingdom and the eradication of the Protestant Religion. So John Morgan, as Custos Rotulorum was ordered to prepare the Monmouthshire militia for a Jacobite invasion and to 'command the Justices of the Peace to put into execution the laws against papists and non-jurors and to make a return of persons refusing to take the oaths of allegiance, supremacy and abjuration, and to effect the arrest of suspects and the seizure of the arms of papists '.
1715 was an eventful year for John: his uncle, John Morgan (the London Merchant) had died leaving him Rhiwperra Castle and the manor of Gwynllwg (Wentloog) and succeeding him as Lord Lieutenant of both Monmouthshire and Brecknockshire. John reconstructed the formal gardens and the Orangery at Tredegar House and is responsible for the magnificent iron gates by the Brothers Edney on the north façade and reputed to have cost £1000. Nowadays the skills required to make such splendid objects are quite rare and may well cost over £500,000 if they were made in 2020, but this does give a measure of the Morgan wealth at that time.
John and Martha were married c.1699 and had twelve children, eight including Charles, John, & Lewis died in infancy and are buried here. The surviving sons were William (d.1731), upon whom Sir John settled the Tredegar estate, and Thomas (Judge Advocate General), upon whom he settled Rhiwperra. Their two surviving daughters were Katherine (d.1746) and Martha (d1774), who in 1725 married Edward Harley, 3rd Earl of Oxford & Mortimer.
John was immensely wealthy, each of his two daughters inherited £11,000 on his death (£2.5 million at current prices). John Morgan died aged 50 on 7th March 1719 and his wife shortly afterwards on October 15th 1720 and are buried in the Chapel. Their memorial was erected sometime after 1725 which reads: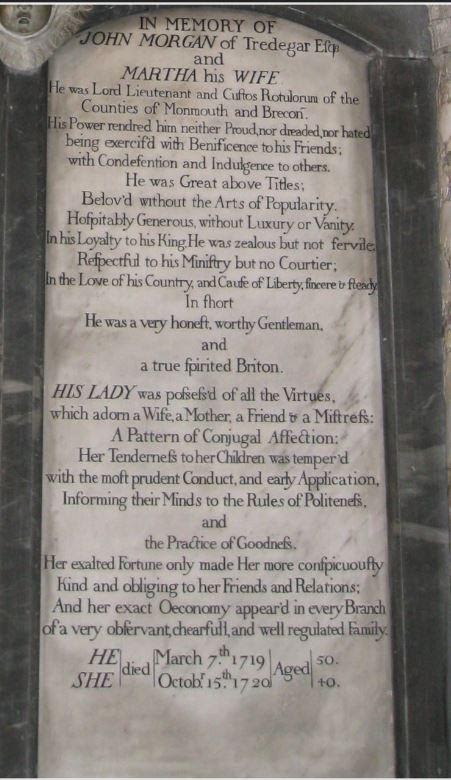 IN MEMORY OF
JOHN MORGAN of Tredegar Esq
and
MARTHA his WIFE
He was Lord Lieutenant and Custos Rotulorum of the Counties of Monmouth and Brecon.
His Power rendered him neither Proud, nor dreaded, nor hated
being exercised with Beneficence to his Friends:
with Condescension and Indulgence to others
He was Great above Titles:
Belov'd without the Arts of Popularity.
Hospitably Generous without Luxury or Vanity
In his Loyalty to the King. He was zealous but not servile
Respectful to his Ministry but no Courtier;
In the Love of his Country, and Cause of Liberty, sincere & steady
In short
He was a very honest, worthy Gentleman,
and
a true spirited Briton
HIS LADY was possessed of all the Virtues,
which adorn a Wife, a Mother, a Friend and a Mistress:
A pattern of Conjugal Affection:
Her Tenderness to her Children was tempered
with the most prudent Conduct, and early Application,
Informing their Minds to the Rules of Politeness,
and
The Practice of Goodness
Her exalted Fortune only made Her more conspicuously
kind and obliging to her Friends and Relations:
And her exact Economy appeared in every Branch
of a very observant, cheerful, and well-regulated Family
From this epitaph, it can be seen that John and Martha were a much respected and well-liked couple. James Pratt, Tredegar Estates Steward for 30 years, on his own memorial it simply states that: "he had worked for the 'worthy family of Tredegar'".
John Morgan and Lady Martha lie together side by side in front of their monument. Their graves are each marked with a large black ledger of polished crystalline limestone with finely carved circular low relief heraldic shields with the Morgan armorial badge impaled with that of the Vaughan family.