Hatchment 8: Lt-Gen Francis Miles Milman
22nd August 1783 – 9th December 1856
Died aged 73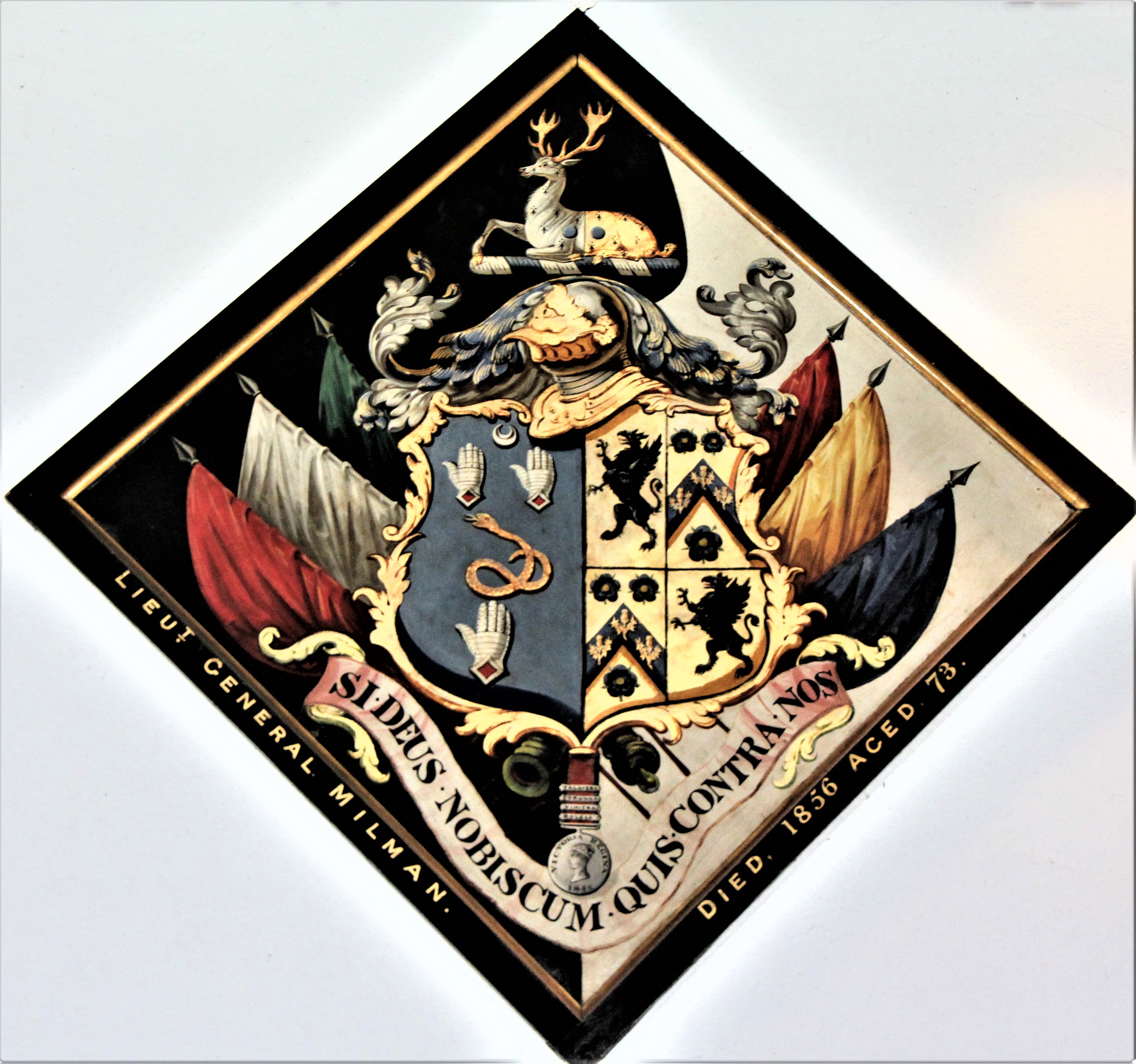 On 8th March 1817, Miles Milman married Maria Margaretta, daughter of Sir Charles (Gould) Morgan, 2nd Baronet and sister of Revd Augustus Morgan. Miles and Maria Margaretta had eight children.
Miles was the second son of Sir Francis Milman who was the Physician to Queen Charlotte and the Royal Household and President of the Royal College of Physicians. Miles' brother, the Very Revd Henry Hart Milman was Dean of St Paul's Cathedral and presided over the burial of the Duke of Wellington.
The Milman hatchment is the most impressive one at St Michael's and commemorates his glorious military career. In 1800 he was commissioned as an ensign in the Coldstream Regiment of Foot Guards aged 17, and by 1837 had risen to Lieut Colonel. In 1850 he was appointed Colonel of the 82nd regiment and in 1851 he became Lieutenant General.
He commanded the Foot Guards during the Peninsular War (1807–1814). This was a conflict fought by the United Kingdom with Spain and Portugal, against occupying forces of the First French Empire for control of the Iberian Peninsula during the Napoleonic Wars. He was present at the battles of Rolica and Vimiero, the retreat to Corunna, action at the heights of Luga and the battle of Corunna. At the battle of Talavera (27–28th July 1809), he was seriously wounded and was nearly burnt alive like many others when the grass caught fire from the ammunition. He was saved by the gallantry of a private in the Guards who pulled him away from the flames. He was taken prisoner with other wounded comrades and held for three months.
Miles is buried at St John the Baptist Churchyard, Pinner, London Borough of Harrow, London.
Inscription on Frame
Lieut General Milman died. 1856 aged 73
Background
Dexter background black
The Arms are a quartering of 4 with
the Colchester & Clarke arms set In
Pretence1
Azure a snake nowed or between three gauntlets argent – A golden "knotted" snake between three silver gauntlets on a blue background Impaled 1. & 4. Morgan 2. & 3. Gould
Crest/Mantling/Helm
A stag couchant per pale argent and or attired or ermined sable charged with two roundels azure – A stag lying down on a blue & gold wreath with the head raised on a black background. The stag is mounted on a golden helm and is partially clothed in gold with two round blue discs.
Decoration1
Flags & cannon on either side of the shield & medal pendant below campaign bars for the Peninsular War
Motto
SI DEUS NOBISCUM QUIS CONTA NOS – If God is with us, who can be against us