Hatchment 5: Mary Morgan
1735 – 1777
Died aged 42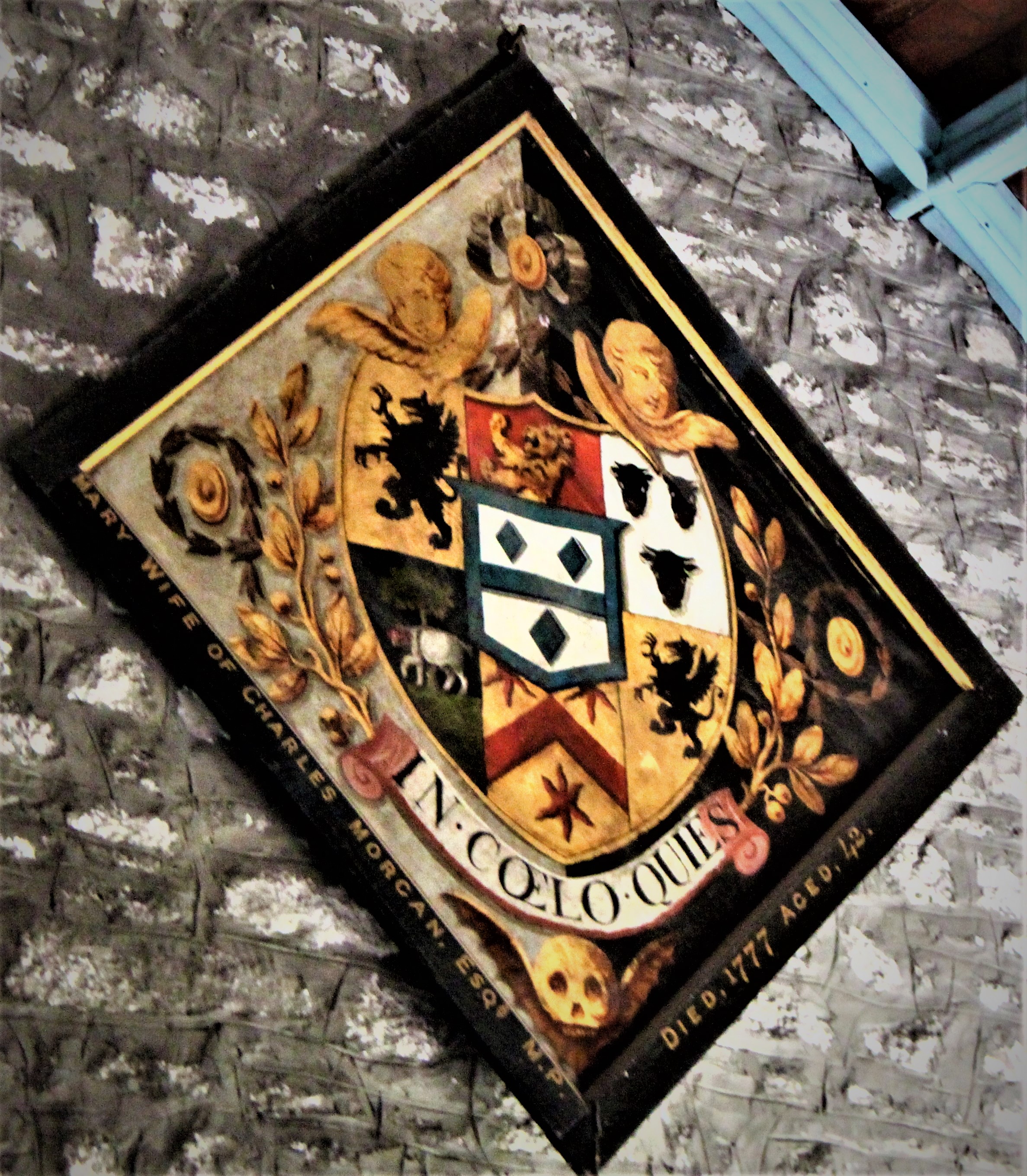 Mary was the daughter and heiress of Thomas Parry, of Arkstone Court, Kingstone, Herefordshire, and was exceptionally wealthy.
She was married twice, first in 1756, to her cousin, Robert Mynors Gouge of Treago Castle, St Weonards, Herefordshire, who died in 1765. In 1767, she then married Charles Morgan of Rhiwperra Castle & Tredegar who was the Member of Parliament for Brecknockshire.
She lived at both Tredegar House and Treago where her husband, Charles, carried out many alterations to the property.
She died childless on 24th June 1777 aged just 42, at Brickendonbury, one of the Morgan family seats in Hertfordshire. Mary is buried with her husband, Charles in the Morgan Chapel.
Mary had a great sense of family duty which can be seen by the complex dispositions in her will. She left a life interest in various parts of her estate to her mother and husband, and after their deaths, to James Pritchard, a relative provided he obtained a Royal Licence to assume the Parry name. The licence was obtained and James Pritchard Parry inherited Arkstone Court, which he rebuilt and is the building we see today.13 Mary's will provided that Charles Morgan received £10,000 in government bonds (about £1.65 million at today's values) and a life interest in Treago. After Charles' death in 1787 Treago passed to the eldest son of Peter Rickards of Evenjobb Court, Radnorshire provided he took the additional name of Mynors. This son, also Peter, was a descendant of Rowland Mynors Esq. of Treago (d.1651), so when Peter Rickards Mynors inherited the estate, Treago was thus returned to the Mynors line.14
Inscription on Frame
Mary Wife of Charles Morgan. Esqr M.P. died. 1777 aged. 42
Background
Sinister black background
The Arms are a quartering of 6 with
the Parry arms set In Pretence1
1. & 6. Morgan 2. Meredith ap Bleddyn 3. Bleddri ap Cadifor Fawr
Llwch Llawen Fawr 5. Colchester
Crest/Mantling
No Helm or Mantling but two cherubs' heads resting above the escutcheon
Motto
In Coelo Quies – Resting in heaven