The Chancel and Altar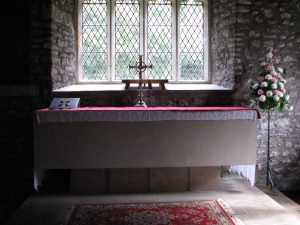 The chancel is probably 13th century. The walls are of exposed rubble stone with a pointed recess to left of the East window. The walls are much thinner than the nave, and are butted up to its east end. There is a crude piscine on the South wall and shapes of previous windows can be seen near the altar. The broad late medieval chancel arch is decorated with a gilded Royal Coat of Arms dating from c.1816.
The Portland stone altar, designed by John Butler, was donated by Harry Secombe, the famous comedian and singer, whose brother Fred Secombe was Rector of Machen 1954-1959. The previous altar was much smaller and can now be seen in the Morgan chapel. The Revd. Secombe was also the author of several light hearted and humorous books based on his experiences as a newly ordained priest in South Wales.